Features
Cake Box Challenge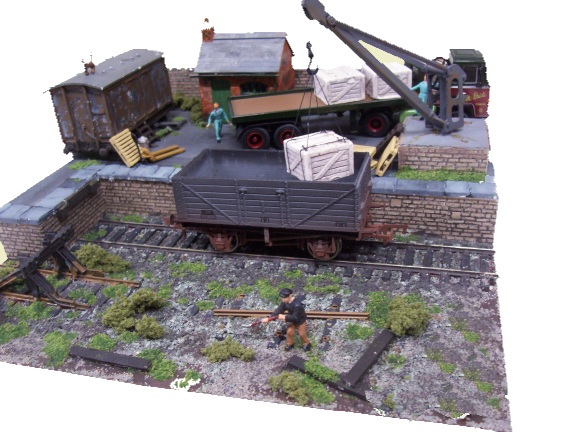 Now how much of a layout can you build on a footprint of only 8in. X 8in. ?
This was a recent challenge set for readers of British Railway Modelling. The brief was to produce a diorama in a space the size of a cake box. Now this was a challenge that Andrew couldn't possibly resist. Pictured above is his response, with all the character associated with his expertise in modelling industrial backwaters. In addition, this was selected for publication. Nice one Andrew.
Visitors to the recent Tanfield Railway Gala weekend were able to view it first hand.
Milly the Modelling Dog
This is Milly, Mike and Helen's faithful hound. Milly loves attending railway events, especially model railway shows, where there is an abundance of opportunuty to fuss and be fussed.
Milly is pictured here at the Tanfield Railway Gala Weekend, where Mike was exhibiting. As well as making a fuss of the other modellers, she also discovered that there are interesting pools of black, oily water in a live steam shed area - you can imagine the rest.
I supect an early bath was the order of the day.