Features
Building an Alexander Models J77
Here is the kit of parts for a J77 locomotive by Alexander Models of North Shields, which Dave is building.
The etched chassis is to the left of the picture. The boiler components are next to it and include a rolled brass boiler with cast white metal smokebox. The white metal body components are to the bottom centre and right of the picture. A high quality lost wax brass casting (bottom left) contains detailing parts such as vacuum pipes, whistles, safety valves, clack valves etc. The motor (a DS10), gears and wheels are not included in the kit.
The Chassis

The chassis was built first. There's a good reason for this, for you need to know how it will fit into the locomotive body, especially the motor and gears. The side frames, and the two front and rear tab-and-slot rectangular spacers have to be all soldered together. Unlike earlier Alexander kits, there are no screws and brass spacers to assist. Temporarily fitting the Romford Axles helped to hold everything in the right place. Three etched frame stretchers are next added, followed by the lower spacers. All of these are tab and slot. Test fit the motor and mount as early as possible - we're using a 40:1 Romford gear set, so frame spacer No.9 had to be omitted, as it sits directly below the centre axle and gets in the way of the pinion. There isn't a motor mount on the etch, but Dave Alexander provides an excellent cast brass mount which only needs a small amount of reaming out to enable the front bearing of the DS10 to fit. The wheels and motor will be added when the chassis has been painted. One further modification is that the upper front brake cross shaft passes directly below the front chassis mounting bolt hole. The shaft was cut in the middle, and folded back onto the side frames, then soldered on.
The Body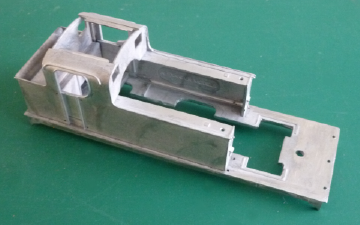 Construction of the body underway. This assembly was built completely by soldering, which is the best way to proceed if you have a temperature controlled iron. You could use epoxy, but then you have to sit around waiting for it to set. The 70 degree solder cools quickly, and if you make a mistake, a pan of boiling water will allow you to start again.
The Boiler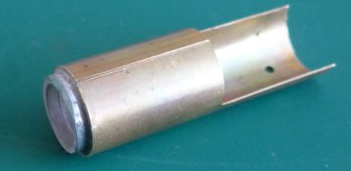 The brass boiler etch is supplied partly rolled, but needs finishing, and will have to be annealed before completion of the rolling. The boiler supplied with this kit needed some material removing where it joined at the bottom, as it has to be a tight fit around the white metal former (shown below).
The lip at the front of the casting fits into the rear of the smokebox to assemble the two components.