News
Magdalene Lane wins Best Layout award at Spennymoor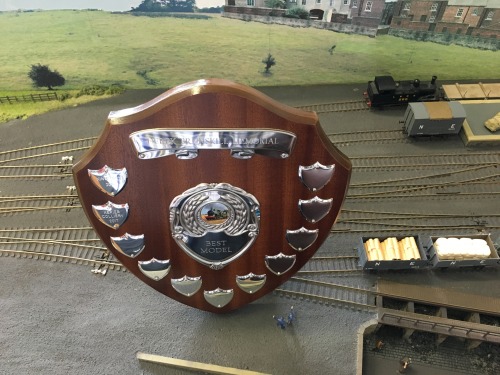 Magdalene Lane was awarded the Derek Brunskill Trophy at the recent Spennymoor Model Railway Show.
The trophy is presented annually by the members of the Durham Locomotive Preservation Group and is one of two 'best in show' awards. The final decision was based on the quality of archictectural modelling on the station building, which is based on Gilesgate Station in Durham City. The model is an accurate representation of this building, which was restored by Travel Lodge, and now forms part of a hotel and restaurant complex.

Accurate measurements on site and detailed photographs provided the information required to construct the model. We would like to thank Travel Lodge for their kind permission to enter the site and measure the building.
Congratulations also to the Cleveland Model Railway Club who won the Vince Main Trophy for the best layout voted by members of the public.
Click here for more details of Magdalene Lane
Dave Alexander to Retire
Dave Alexander, who for many years has manufactured kits for many North Eastern locomotives, is to retire at the end of the year and cease production. Availability is now limited to remaining stock, and no further production will take place.
Dave has not been well for some time and can no longer undertake the work required to produce his kits. At the time of writing (29/10/18) he has a few remaining kits for Q5, Q7, and some of the six coupled tender engines (J25 etc).
Where this will leave the North Eastern Modeller remains to be seen. Anyone interested in buying the business should contact Dave ASAP.
Record Attendance at Shildon Exhibition
The Shildon Model Railway Club's annual exhibition saw a record 4,600 visitors on the weekend of 6th. and 7th. October.
With over 30 layouts, and a wide range of traders, this event has become one of the biggest in the North East. Several of the layouts on show had not been previously exhibited in this area.
The 'Best Layout' trophy was awarded to Museum of Transport.